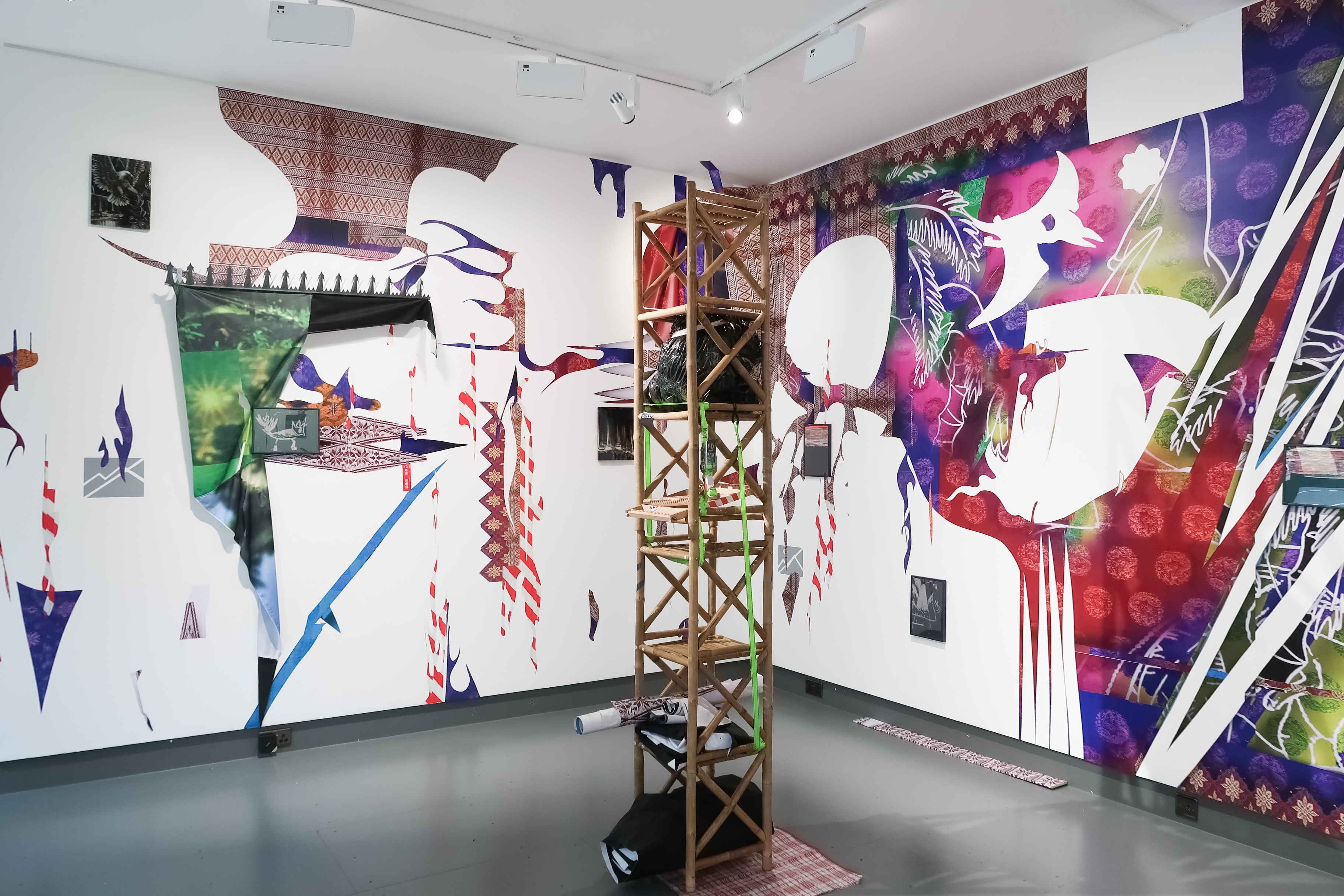 l4nd$ȼp♠︎Ξ$

Fyerool Darma
March 30 - May 04, 2022
London

Tabula Rasa Gallery is pleased to announce the first UK solo exhibition
l4nd$ȼp♠️Ξ$
by the Singapore-based artist
Fyerool Darma
. Darma, one of the most sought-after artists in Southeast Asia, is best known for his research-based, multimedia practice that interrogates and complicates the cultural consumption of Southeast Asian history in relation to contemporary markers of identity and class.
His upcoming exhibition at Tabula Rasa Gallery London presents a continuation of the latest chapter of his Landscapes series, first launched with Yeo Workshop in Singapore. The series comprises of recombinant foraged and glitched imagery, texts, objects, textiles, and salvaged artefacts. It builds on his continuous extensive research of forgotten and obscured Malay history as well as his journey in London, reflecting on Nusantaran cultural sphere, contemporary pop culture, and data waste. These new works amalgamate his living experience in Singapore and London, two international cities where various cultures entangle.
As part of the exhibition, Tabula Rasa invites Darma for a residency in London to research, ransack, and ruminate, expanding this ongoing project. Simultaneously celebrating the value of labour and the power of generosity, the residency programme will further initiate a number of events.
Part host, part DJ, part jester, part draughtsman, Darma presents this project as a series of organic connections between his research, his living experiences, and his love of animated dinosaurs. The exercises have been developed in experimental anti-linear conversations with Karin G. Oen.
Darma's recent solo exhibitions include:
l4nd$ȼp♠️Ξ$
, Tabula Rasa Gallery, London (2022);
L♠️ND$¢♠️PΞ$,
Yeo Workshop, Singapore (2022);
Sunny, your smile ease the pain
, Yeo Workshop, Singapore (2019);
After Ballads
, National University Singapore Museum, Singapore (2017-19). He has also presented in group exhibitions such as
Afro-Southeast Asia Project
, Vargas Museum, Philippines (2022) & Nanyang Technological University – Art, Design and Media Gallery, Singapore (2021);
Transient Museum of a Thousand Conversations: LIR at International Studio and Curatorial Program (ISCP),
ISCP, New York (2019);
As the West Slept,
World Trade Centre, New York (2019);
900mdpl's Ghost of a thousand conversations
, Kaliurang-Jogjakarta (2019);
Lost and found: imagining new worlds,
Institute of Contemporary Arts Singapore, Singapore (2019);
Fantasy Islands,
Objectifs Centre of Photography, Singapore (2017); and
An Atlas of Mirrors
, Singapore Biennial, Singapore (2016).
He was the Artist-in-Residence at Nanyang Technological University - Centre of Contemporary Arts Singapore (2019-2020).
His works have been collected privately and within the collection of the Singapore Art Museum.
View Worklist
Tabula Rasa Gallery (London)
Unit One, 99 East Road,
Hoxton, London
N1 6AQ
Tuesday - Saturday 12:00 - 18:00 | Sunday - Monday Closed