It Is Better To Be Cats Than Be Loved
Katarina Caserman, Anousha Payne, Cheri Smith, Sophie Ruigrok, Shafei Xia
July 08 - August 06, 2022
London
Tabula Rasa Gallery is pleased to announce the summer show "It is Better to be Cats than be Loved", opening this Thursday 7th July, 6-8pm. Bringing together paintings and ceramic works by five artists, this exhibition highlights a new generation of talents upcoming in London: Katarina Caserman (b.1996), Anousha Payne (b.1991), Sophie Ruigrok (b.1992), Cheri Smith (b.1991) and Shafei Xia (b.1989).

With this tongue-in-cheek exhibition title references Niccolò Machiavelli infamous saying: "It is better to be feared than loved", the exhibition brings to light the sense and rationale in the ambiguity of historic fact-making. It is a self-exploration of how beliefs and doctrines flow across time, that are at once perilous and fundamental in the development of humanity.


Tabula Rasa Gallery has also hosted an Artists in Conversation between Katarina Caserman and Sophie Ruigrok, moderated by Vanessa Murrell.
Read More
It is Better to be Cats than be Loved
Curated by Yisi Li
The thinking process for the show started when I saw the portrait of a feline at Cheri Smith's studio earlier this year. The distorted body gestures evoke some of almost contradicted feelings in my mind. Sense of treacherous love. It is confusing, alluring, hazardous. It has such a Machiavellian outlook, I fear it rather than love it.
I see my feelings as an almost intuitive way to respond to the contemporary age we find ourselves in. "It is better feared than loved", seems what once said by Machiavelli. His motto has then been in active practice throughout history. For ideological purposes or for the sake of national interest, the motto are practiced at the sacrifice of humanity in many ways.
Being said, evidence has suggested that Machiavelli's original sentence appears to rather be: "It is better be feared AND loved." Further indulged in the reading, it became clear to me that such motto is advised to be exercised with caution: "returning to the issue of being feared and loved – that since men love at their own pleasure and fear at the pleasure of the prince, the wise prince should build his foundation upon that which is his own, not upon that which belongs to others: only he must seek to avoid being hated."(1)
Therefore, this portrait gradually, in my mind, morphed into a perfect manifestation of how truths can be covered up by emotions, how beliefs can be constructed, and minds can be manipulated.
This journey takes many forms, it is the uncanny, self-indulged exploration of the subconsciousness stimulated by daring forms and bold colours in Katarina Caserman's paintings; It is also a body-and-mind investigation into the entangling relation between individual minds and collective mythologies in Anousha Payne' sculptures; It is an artist's response to a thorough study of body gestures by Sophie Ruigrok, a vivid exploration to the transmigrational experience across species and spaces by Cheri Smith, and the construction and breaking down of stereotypical symbols of power along the creative journey of Shafei Xia.
(1): p116, Machiavelli, N 2005, Prince, Oxford University Press, Oxford.
Katarina Caserman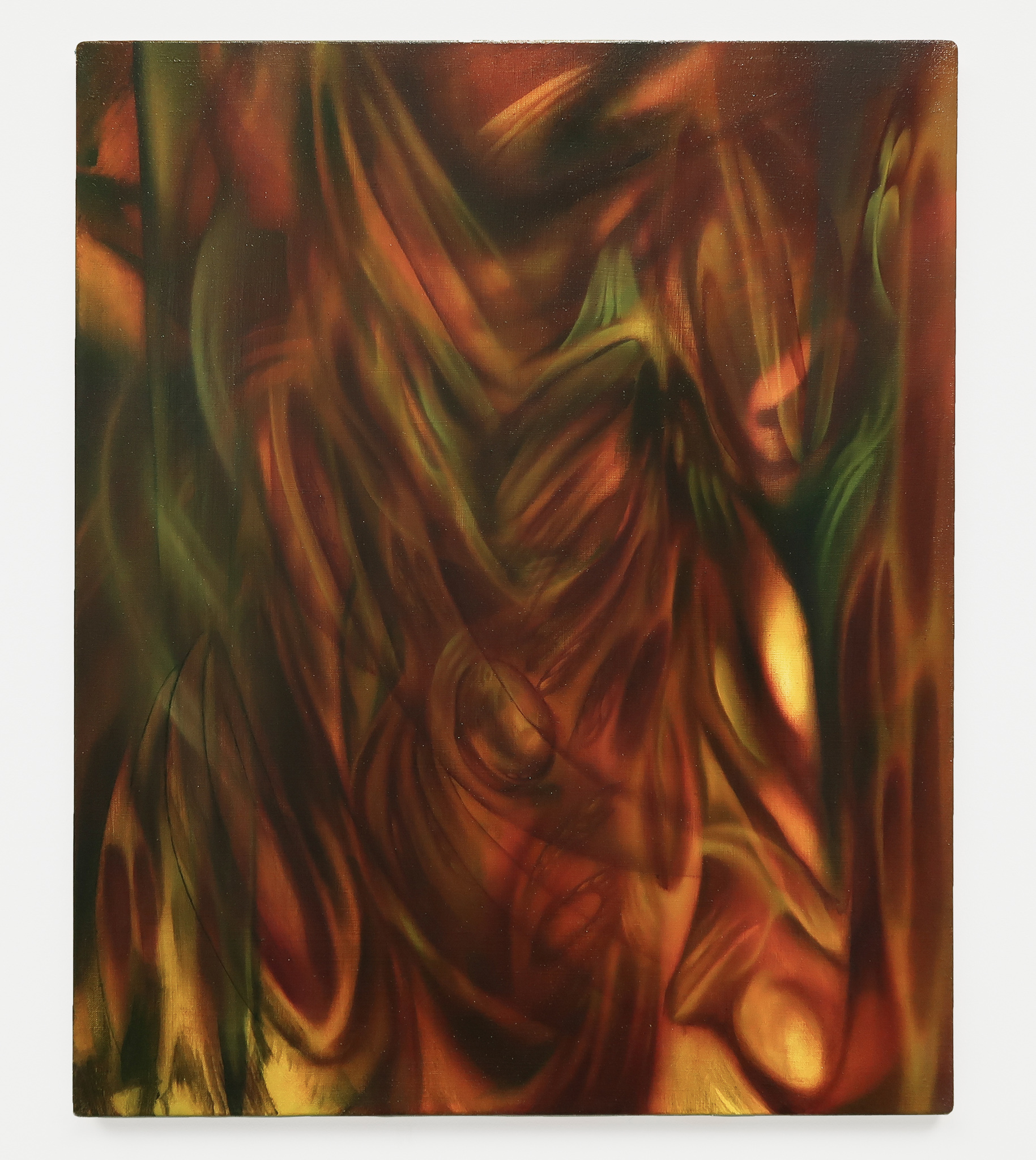 Katarina Caserman (b. 1996) is a London-based artist originally from Slovenia. Her work is an attempt to understand the transformative nature of things. Each thing needs its own kind of material to grow. As the artist writes: "We all know that nothing can be made of nothing and nothing can be reduced to nothing. Within the void things take place. We cannot see our thoughts, memories, or time in the form we perceive everything that holds a different nature of its appearance." Katarina's aim is to give these unseeable things their material, skeleton, colour, shape, and movement. How to materialise a nonmaterial matter is a central question of her practice.
She graduated from MA painting program at the Royal College of Art in 2022. She obtained her BA in painting at the Academy of Fine Arts and Design in Ljubljana. In 2020 she was awarded a Ministry of Culture of Slovenia's Scholarship for Promising Young Artists. Her work has been exhibited mainly in Slovenia and most recently in London at Des Bains. Her recent exhibitions include It is Better to be Cats than be Loved, Tabula Rasa Gallery (London, 2022). Made in Heaven, duo exhibition, Des Bains (London, 2022); Interior, Exterior, Sala Salon (London, 2021, solo); Render, Klub eMCe plac (Velenje, Solvenia, 2019); s02e02 at MGLC (Ljubljana, 2019); Fin- de-Siècle #III at Layer House Gallery (Kranj, 2019).
Anousha Payne
Anousha Payne (b. 1991) lives and works in London. Her work explores the boundaries between personal experience, fiction and myth. Informed by Indian folkloric stories, it plays on ideas of the performative powers of objects and chance; the combination of moral dilemmas and magic, spirituality and animism alongside characters with transformative qualities. Often deploying reptile skin, her ceramics are intended as hybrid objects, a reminder of the fluidity and shared qualities between humans, animals, the natural world and inanimate objects; questioning material hierarchies and values.
Anousha Payne graduated from Camberwell College of arts with a BA in Sculpture in 2014. Recent exhibitions include Tangled Toes, Twisted Ears at Public Gallery (London, 2022); An Ode to Orlando, curated by Marcelle Joseph at Pi Arts (London, 2022); As She Laughs at Cooke Latham with Anna Perach (London, 2021); Hawala at Paradise Row Projects (London, 2021), and Beyond Skin at Tube Culture Hall (Milan, 2021). Upcoming and current shows include grow show It is Better to be Cats than be Loved at Tabula Rasa Gallery (2022), a solo exhibition at Stellarhighway in New York (2022) and group shows at Alkinois, Athens, and Andrea Festa in Rome (2022).
Cheri Smith
Cheri Smith (b. 1991, Essex) currently lives and works in London. Cheri's works explore themes of animality, embodiment, wildness and strangeness, and are informed by her own detailed observations and imagination. She paints with oil, egg tempera or glue distemper onto supports such as canvas, panel and bookcover. Animals proliferate in Cheri's paintings, offering a symbolic role while also enacting their own autonomous lives. They scratch and nip with a playfulness bordering on violence. These works intend to illuminate the inherent unknowability of the natural world, and to ruminate on our contemporary place within it.
Cheri Smith completed her postgraduate in drawing from the Royal Drawing School in 2018, where she was awarded the Trustees Prize. She received her BA (Hons) in Fine Art from Norwich University of the Arts in 2013. She has been the recipient of residencies at Hanover Grange, Jamaica (2019) and Borgo Pignano, Italy (2020), and will undertake a residency at Dumfries House, Scotland later this year. Her recent exhibitions include It is Better to be Cats than be Loved, Tabula Rasa Gallery (London, 2022), Bookworks, James Freeman Gallery (London, 2022); Nine Lives, Fortnight Institute (New York, 2021); Winter Solstice 2020 Art, Books & Ephemera, Fortnight Institute (New York, 2020); The Lynn Painter-Stainers Prize, the Mall Galleries (London, 2019), and Best of the Drawing Year at Christies (London, 2018).
Sophie Ruigrok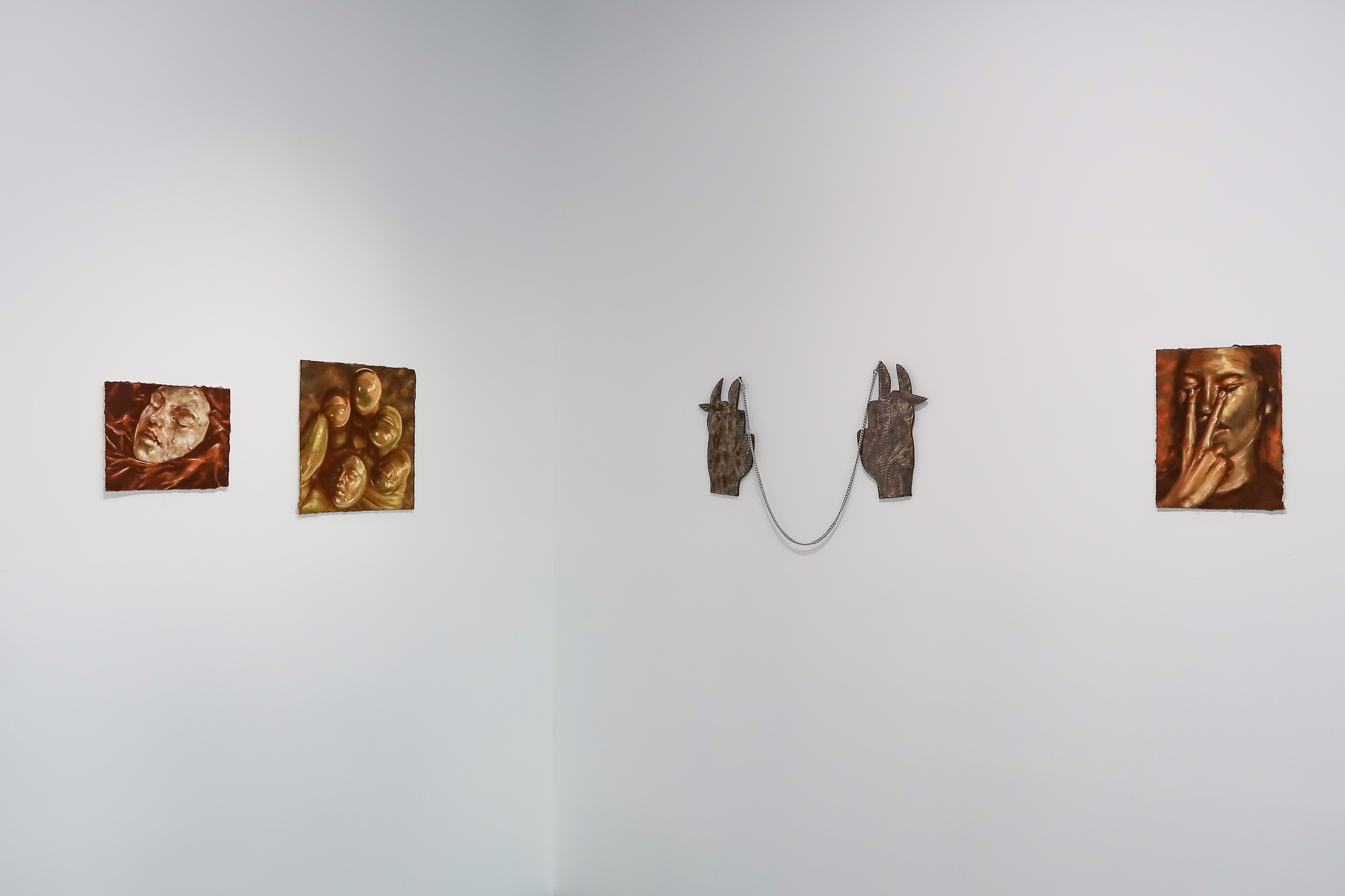 Sophie Ruigrok (b. 1992, London) lives and works in London (UK). Rich with archetypal symbolism, art historical reference, allusions to the artist's personal life and rooted in Jungian psyschonalysis, Ruigrok's practice explores how the spiritual and the everyday both reflect and rub up against each other. The constellation of images she offers for this exhibition interrogates the idea of the self; how identity is both concealed and revealed. The shape-shifting symbol of the mask recurs; in Waiting for you (part 5), it lays nestled in the palm of a hand, in Learnt Behaviours on a finger as a ring and in Relax your earth body amongst soft velvet. The tears that roll down the mask's face are a recurring motif in Ruigrok's work, symbolic for the exchange between the inner and outer world, where immaterial emotion becomes material. You may find yourself in a period of deep personal development and growth references a specific gesture signifying 'I swear it's true', as well as taking this temporary loss of sight as a symbol for transformation - an ability to move from one mode of 'seeing' to another - and the turn to a more introspective mode.
Ruigrok completed a postgraduate diploma in Drawing at the Royal Drawing School in 2019, and was selected for Bloomberg New Contemporaries 2020, exhibiting at the South London Gallery in 2021. Her first solo exhibition "today I feel relevant and alive" was held at The Sunday Painter (London, 2022). Recent exhibitions include It is Better to be Cats than be Loved, Tabula Rasa Gallery (London, 2022); Love is the Devil: Studies after Francis Bacon, Marlborough (London, 2022); A Grain of Sand, The Sunday Painter (London, 2021). Sophie has been awarded an artist's residency in Borgo Pignano (Tuscany, Italy) in September 2022.
Shafei Xia
Shafei Xia (b. 1989, Shaoxing, China) currently lives and works in Bologna, Italy. Shafei's works explore the cruder aspects of contemporary reality, in which we feel powerless, frightened at times, and often insecure through works that combine human emotions and animal instincts. She makes paintings on sandal paper mounted on canvas and ceramic works. She often represents herself as a tiger, a symbol of power and instinctive force, which in Chinese alchemy indicates the active principle, energy as opposed to the passive principle. Furthermore, the tiger as the motif has shown a gradual change in her works, it becomes more playful and personable overtimes, hinting at the subrogation of power among agents overtime.
In 2013, After graduating in set design from ChongQing University in China, she turned down a steady job in her native city to move to Shanghai where after various experiences her first sale of a work enabled her to "catch the scent of freedom in the air," as she writes. She moved to Bologna and completed her degree at the Fine Arts Academy in 2020. In 2019 she won the Talent Prize of Fondazione Zucchelli per l'Arte. Her ongoing exhibitions include include It is Better to be Cats than be Loved, Tabula Rasa Gallery (London, 2022), Passando avanti alla mia finestra, P420, Bologna, IT (solo, 2022); quel jour sommes- nous?, Tokonoma, Kassel, DE (2022); Il giardino dell'arte. Opere, collezioni, Centro Pecci per l'Ar- te Contemporanea, Prato, IT (2022).
Tabula Rasa Gallery (London)
Unit One, 99 East Road,
Hoxton, London
N1 6AQ
Tuesday - Saturday 12:00 - 18:00 | Sunday - Monday Closed